President Niinistös greeting on 6th december 2018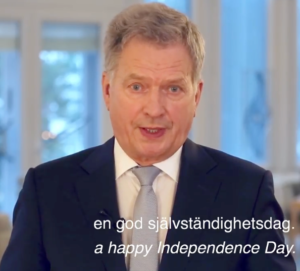 Dear friends,
Another year has passed. It is once again time for me – to wish you all a happy Independence day.
I Know, of course, that you are proud to fly the flag for Finland every day of the year.
It won´t surprise you to hear that the autumn here in Finland has again been long and dark
and we now all look forward to the light and joy the december festivities will bring.
It is precisely this joy and happiness i want to wish to you, Finnish citizens and people of Finnish
herritage around the world. And once again – Happy Independence Day!
Finlands president
Sauli Niinistö